Dhaka Medical College, Dhaka, Bangladesh Affiliated with University Of Dhaka
Dhaka National Medical College, Bangladesh Affiliated with University
of

Dhaka
Dhaka National Medical College
Fortune Education, Authorized Representative: Direct Spot Admission +91 9903355537
The Dhaka National Medical College inherits her glorious predecessor the Dhaka National Medical Institute, which was established in 1925 as a part of Non-cooperation movement of the Indian Sub-continent against the British colonial rule, organized jointly by the Indian National Congress and the Indian Muslim Leage under the Leadership of Mahatma Gandhi, Mawlana Muhammad Ali and Mawlana Sawkat Ali.
Along with other programs the Non-cooperation movement urged upon the peoples of the sub-continent to boycott educational institutions established and administered by British Govt. and to establish National Schools, Colleges and Institutes for modern scientific education by the local people themselves. Accordingly two Medical School were established in the Bengal Province for producing National Doctors of modern medicine. One such Medical School was at Calcutta, named Calcutta National Medical Institute and the other at Dhaka, named Dhaka National Medical Institute.
MISSION VISION
Governing Body of the college is formed by the University of Dhaka for overall management of the College. Now Advocate Kazi Firoz Rashid, M.P. (Former Minister) is the Chairman of the present governing body of the college. Under his direct leadership the master plan of the vision to build up the digital Bangladesh of SK Hasina is in progress.
Recent developments of College & Hospital:
Valuable land expansion to build up two new student Hostel which will be as named Bangagandhu Sheikh Mujibur Rahman and Bangamata Sheikh Fazilatun Nessa.
One nursing institute will also be established.
Vertical extension of the academic building according to the recognized plan has been completed.
Extension of clinical activities by opening the new building.
Opening of new Department like Dental Unit, Interventional Cardiology (CathLab), Neuro-Medicine, Gastroenterology and Endocrinology with well equipment's and efficient man power.
Improvement and expansion of Laboratory medicine, Radiology and Imaging.
Uninterrupted power supply by modern automated generator system both in Hospital and College for 24 hours.
Central AC service is ensured in college building as a construction plan.
New two lift in Hospital building is added and one new lift is already installed.
To ensure the patients care, Fast-track consultant services is started.
Medical Study in Bangladesh
Local Student
 Dhaka National Medical College inviting the applications for admission into 1st year MBBS course in 24th Batch for the session of 2017 – 2018. Admission shall be on merit basis and shall follow the same criteria as prescribed by the Ministry of Health & Family Welfare and Bangladesh Medical & Dental Council.
 Free Studentship
Number of free studentship and number of siblings of the freedom fighter will be selected as Govt. rules. In this regards candidates must have to apply for free studentship & freedom fighters quota with valid documents.
 Application Procedure
Application form, Prospectus and further information's are available in the office of Dhaka National Medical College, 53/1, Johnson Road, Dhaka – 1100. Tel: 47118965-6, 47118967, 9574699, 47110089. Complete application form and relevant documents must be submitted as per notification.
Selection Procedure
Admission test into MBBS course will be conducted by Directorate General of Health Services (DGHS) Government of the Peoples Republic of Bangladesh.
Admission into this Medical College will be done as per rules & regulations of DGHS.
Candidates must apply for admission in a prescribed application form.
Application form for admission into this medical college can be collected during the office hour (8:00 am to 2:00 pm).
Filled-up application should be submitted along with relevant mentioned documents and the cost of form Tk. 1000/- or US$ 100/- (or equivalent local currency).
Meritorious & poor student's quota will be filled up as per rules of DGHS.
Sibling of the freedom fighters will be selected as per decision of DGHS.
Siblings of freedom fighter must have to apply in a separate application form and must add necessary documents with the application for admission in that quota.
Once applied for freedom fighters quota cannot be changed to general quota or vice versa.
College authority will prepare a merit list of the candidates and the list will be hang in the college notice board in due time.
No candidate will be allowed to get admission after the stipulated date & time.   Medical FitnessSuccessful candidates will have to undergo medical test by a Medical Board constituted by the College & must be declared fit for final admission.  Expenses of the StudyTuition and other fees payable at the time of admission. All payments are to be made in full at the time of admission. Related information in this regard is available from the college office.
MBBS Fees Structure
Admission and Tuition Fees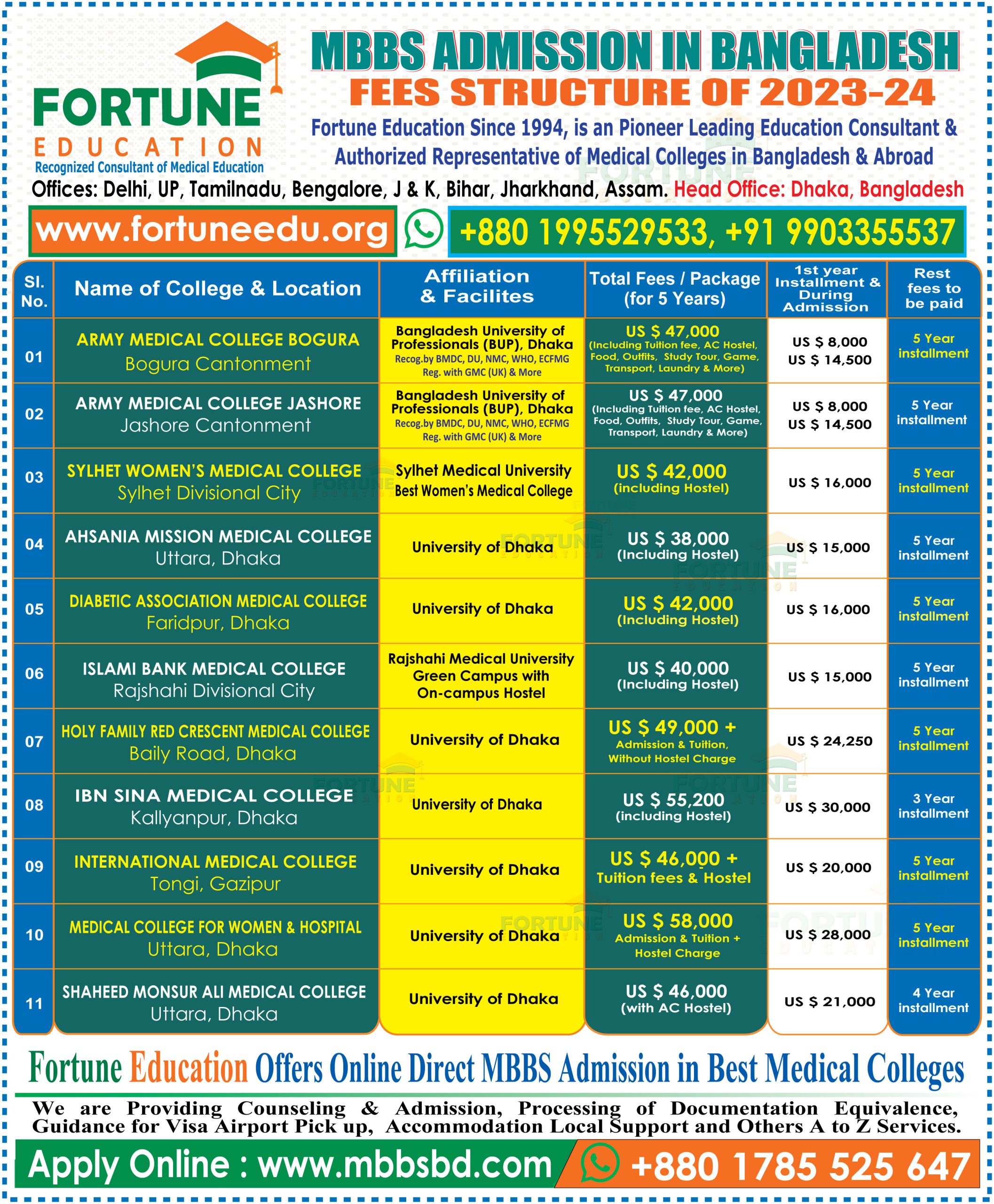 MBBS Admission Procedure
GENERAL INFORMATIONS FOR FOREIGN STUDENT'S ADMISSIONS
PRE REQUISITES FOR ADMISSION: 
All mark sheets, certificates & testimonials must be attested by their educational board, education ministry and the foreign ministry of their respective country.
Students must be fill-up a prescribed form which is available in the embassy/high commission of Bangladesh in their own country.
Equivalence certificate issued by the Director, Medical Education and DG Health of Bangladesh.
You have to learn Bangla to communicate with the patient.
Price of Form is taka 1000 (One thousand).
Medical Check-up by the college authority
Accommodation is available for foreign students 
FINANCIAL REQUIREMENTS:
Admission fee US$ 30,000
Tuition fee:  First month to until passing the course US$ 300 (per month)
Exclusive Authorized Representative, provides MBBS Admission in Bangladesh. Contact: +8801995529533