Islami Bank Medical College is a private Medical College located in Rajshahi, Bangladesh. Affiliated with Rajshahi Medical University, First Private Medical College Under Rajshahi
The college started functioning from the year 2003, The scenic east-facing campus of the Islami Bank Medical College & Hospital, Rajshahi, is located at Nowdapara, a beautiful site beside Airport Road at the northern region of Rajshahi City. The campus is situated on a land of 10 acres. Department of IBMC
The academic activities of Islami Bank Medical College commenced through admission of 50 students in 2003-04 academic session.   The admission is based on merit keeping in conformity with Government Order published and adopted by IBMC Academic Council and Governing Body.
Mission
Islami Bank Medical College is established with a view to training the specially selected high-quality medical candidates to be called 'Medical students' for five academic years. They will follow the medical course according to the syllabus laid down by Bangladesh Medical and Dental Council (BMDC) formulated for MBBS & BDS degree. The degree thus is conferred by the University of Dhaka will be recognized through registration by BMDC.  Islami Bank Medical College (IBMC) is committed to creating a cadre of high-quality doctors both by medical knowledge and high moral values, dedicated for suffering human physically and psychologically in the nation and others across the geographical boundaries.
Objective
The objectives of Islami Bank Medical College are:
1. To teach that we the human species "are Ashraful maks-lu-kat" created to live in the community with harmony and for each other with tender caring.
2. To teach bio-chemical sciences traditionally required for the medical graduate to meet the responsibilities of providing as well as curative health care to the people of Bangladesh.
3. To produce religiously well disciplined, self-motivated and dedicated doctors imbued with the spirit of devotion to the response to human, duty, kindness, tolerance, patience, and com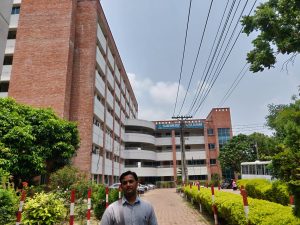 passion.
4. To instill a wide knowledge of the social and economic condition of Bangladesh with a view to imbuing in them the belief, value, and ideas of the nation.
5. To inspire the development of essential characters qualities, a strong sense of righteousness and basic desire to serve the suffering humanities at home and also abroad.
The targets of Islami Bank Medical College are:
To instruct that we the human species "are Ashraful maks-lu-kat" made to live in the network with congruity and for one another with delicate minding.
To instruct bio-substance sciences generally required for medicinal alumni to meet the obligations of giving and in addition remedial social insurance to the general population of Bangladesh.
To deliver religiously all around restrained, self spurred and committed specialists permeated with the soul of dedication to obligation to human, obligation, generosity, resilience, persistence and empathy.
To impart a wide information of the social and monetary state of Bangladesh with a view to permeating in them the conviction, esteem and thoughts of the country.
To move improvement of basic characters characteristics, solid feeling of exemplary nature and fundamental want to serve the misery humanities at home and furthermore
Capability
The capabilities of the college are as under:
Presently the college is training 100 MBBS & 20BDS students in each batch.
2. Capable to run 200 students academic activities in each batch.
3. Building-up the desire amongst the passed out doctors to prosecute further studies leading to specialization. in future.
Location
Islami Bank Medical College is located at Airport Road, Nawdapara, Sopura, Rajshahi, Bangladesh. The 7 storied academic building is housing all the departments along with 650 beds academic hospital.
ADMISSION INTO THE MBBS COURSE
Fortune Education provides MBBS Admission in Bangladesh. Contact : +8801995529533

There is an accommodation for 85 students in each academic session. Admission will be on the basis of merit of the students and the criteria as prescribed by the Ministry of Health and Family Welfare and BM&DC.
APPLICATION FOR ADMISSION
Applications are to be made in prescribed form which can be obtained from the college office and as mentioned places in the advertisement on payment of Tk 1,000/- (One thousand) non-refundable. Payment is to be made by pay order or bank draft in favour of Islami Bank Medical College, Rajshahi.
COURSE EXPENSES
The information related to total course expenses will be notified in the college notice board during publication of the final result. Tuition fee may be paid monthly.
Students who fail to pass their final professional examination in five years time will have to pay the prescribed tuition fees for the period beyond five years. The expenses rates are, however, subject to change from time to time. Admission fee is to be paid by Bank draft/Pay order in favour of Islami Bank Medical College, Rajshahi.
For more details please see the Notice Menu of this website
CRITERIA AND PROCEDURES FOR ADMISSION (for foreign students for the session 2019-20)
A limited number of seats will be offered for foreign nationals. The interested applicants must fulfill the following criteria for eligibility for admission.
1. Applicants must have passed qualifying examination i.e. 12th grade (10+2=12 years) of schooling at a public School/Board/College or passed an examination in any foreign country which recognizes higher Secondary Certificate Examination(SSC).
2. Applicants must have passed Higher Secondary Certificate Examination or equivalent examinations with Physics, Chemistry, and Biology as their major/compulsory subjects.
3. Applicants must have obtained at least 75% marks in average (which is equivalent to GPA 4.0 or equivalent grade in Secondary School Certificate and Higher Secondary School Certificate examinations or in equivalent examinations (i.e. equivalent grade in A-level or O-level examination )     and should have at least 65% marks separately in either of these examinations (i.e. GPA 3.50 or  equivalent grade). In case of O-level examination, marks, grades of only six subjects (top 6 subjects on the basis of marks/grades obtained) will be considered. In the case of A-level examination, marks/grades of Physics, Chemistry and Biology will be considered for evaluation.
4. Applications should be submitted in the prescribed form (to be available from Website). Attested copies of certificates and marks sheets etc. have to be furnished along with the application. All certificates and marks-sheets must be attested by the Ministry of application.
5. The successful applications will require to produce all original academic certificates and mark sheets in during admission
MBBS FEES FOR THE SESSION 2019-2020
Admission time of the payment BDT 13,34,000
2. Monthly tuition fees BDT 8,000 (for 57 months from january-2017)
Session Fee BDT 2,00,000 (for 04 years @per year BDT 50,000)
Total amount to be paid in 5 years BDT19,90,000
FOR FOREIGN STUDENTS (MBBS) SESSION 2019-2020
Admission time of the payment US$ 16000
2. The rest amount to be paid during the next 4 years (per year US$ 5500) US$ 22000
Total amount to be paid in 5 years US$ 38000
Closing the date of admission for 15th  batch for the year of 2017-2018 at 30'November-2017.
If any foreign student want monthly allowance US$ 200 (Two hundred) for 1 (one) year internship training then he/she is to pay US$ 2000 (Two thousand) more along with admission fee.  All the original copies of academic certificates must be submitted at the time of admission.
MBBS
Islami Bank Medical College offers  a 5 years MBBS course under Rajshahi University. The academic  session starts every year in the month of January.  The  course is recognized by  Bangladesh  Medical  &  Dental  Council and approved by the Ministry of Health and Family  Welfare,  Govt.  of  The  People's Republic of Bangladesh.
The  postgraduate  training,  rendered  to  the aspiring  young  MBBS doctors,  as  a  prerequisite  for  the  postgraduate courses  of  specialization,   is  also  recognized  by  the  Bangladesh  College of Physicians and Surgeons (BCPS). The academic activities of Islami Bank  Medical  College  &  Hospital  Rajshahi, 
Bangladesh  is  globally accredited every year International  Accreditation  organization  (IAO). This  college  also  offers  a  4  years  BDS  course  under  the Rajshahi University .
Academic  session  for  BDS  course  starts  every  year  in January  which  is  also  recognized  by  Bangladesh  Medical  &  Dental Council & Ministry of Health & Family Welfare. The objectives of BDS course is to prepare a dental surgeon with required knowledge, skill & attitude to practice dental surgery to improve  the oral & dental health in the  community.
COURSE AND CURRICULUM
The undergraduate MBBS course is  a  5 year academic course following by 1 year  of  internship after graduation.  Official language of the academic activities is English. The  course and curriculum for five academic  years  is  the  same as for matted  by  the  Bangladesh Medical  and  Dental  Council. The  following subjects are being studied during the five academic years as out lined by Bangladesh Medical  &  Dental  Council.
BDS
The BDS course  is  a  4 years of studies  followed by 1 year of compulsory professional practice in form of rotatory internship. The course & curriculum for 4 offers a is same as formatted  by  Bangladesh Medical & Dental  Council. The course will be divided into 4 years & will consist of 8 terms. The time allocation of 4 years academic studies shall be as follows.
ACADEMIC SCHEME
A term having 20 weeks for teaching will have at least 100 full working days and there fore approximately 600 hours of teaching time. On this basis each year will have approximately 1200 hours of teaching time.
SUBJECT TO BE T AUGHT & TIME ALLOCATION
Library
The college library i s housed in a fully every year hall providing accommodation for approximately 120 readers at a time. The library is enriched with good collection of latest edition books and Journals. It is developed to meet the needlecraft errand students. Text and reference books of different discipline are available. Development of the library is a continuous process having provisions of purchasing books every year. Photocopy & Internet facilities are also available in the library
[elementor-template id="2541″]