Southern Medical College Admission Circular 2023-2024: Join the Leaders in Medical Education
Southern Medical College (SMC), one of the leading medical colleges in Bangladesh that has consistently ranked among the top choices for students aspiring to pursue MBBS. This announcement is regarding the 2023-2024 admission process to the MBBS program.
Southern Medical College & Hospital: Your Home for Quality Medical Education in Bangladesh
Nestled in the bustling heart of Nasirabad, Chittagong, the Southern Medical College & Hospital stands as one of Bangladesh's premier private medical colleges. Chittagong, Bangladesh's second-largest city and its largest port city, also serves as the country's financial hub, making it a vibrant and dynamic location for a flourishing educational institution like Southern Medical College & Hospital.
Proudly founded in 2005, the college operates under a profound motto: "Not just to make doctors, but sensible human beings". It strives to fulfill an integral aim – to provide the nation with brilliant medical graduates capable of offering compassionate, cost-effective care and treatment to all patients, resulting in exceptional patient satisfaction.
The campus of Southern Medical College & Hospital is a sight to behold. It boasts an elegant four-story academic building, two hospital buildings with five and six stories respectively, a five-story student hostel building, a kidney dialysis unit, and several other essential facilities. It is this blend of aesthetic appeal, modern accommodations, cultural activities, and dedication to teaching, learning, and research that make it a favorite choice for both Bangladeshi and international students.
Over the last five decades and more, this distinguished institute has consistently demonstrated excellence by offering low-cost MBBS, B.Sc Nursing, and training courses to students from Bangladesh and around the globe. It proudly stands among the top eight preferred international medical colleges in Bangladesh, particularly attracting Indian students due to its affordable fee structure, syllabus similarity with the Medical Council of India, and a welcoming, homely environment.
Southern Medical College Admission Circular 2023-24
SMC invites applications from eligible and interested candidates for the MBBS program for the academic year 2023-2024.
Eligibility Criteria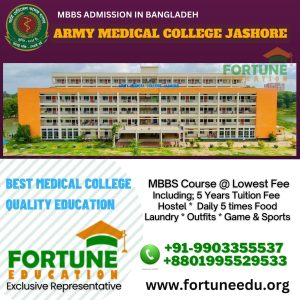 Candidates must have passed the HSC/ 10+2 or equivalent examination in Science stream with Physics, Chemistry, and Biology as core subjects.
Candidates must have scored a minimum aggregate score in the aforementioned subjects as per the rules set by the Ministry of Health and Family Welfare, Government of Bangladesh.
Candidates must have passed the SSC/10th or equivalent examination, at least two years prior to the HSC/10+2 examination.
Candidates should be medically fit as per the standards set by the college.
MBBS Application Process
Application forms can be downloaded from the official website of Southern Medical College (www.smc.edu.bd) or collected from the admission office.
Filled-in applications, along with the necessary documents as mentioned in the application form, need to be submitted by the last date of submission.
MBBS Fee Structure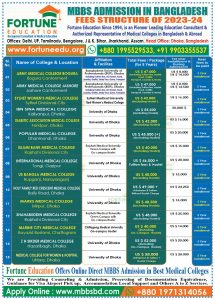 The fee structure for the MBBS program will be as per the guidelines of the Ministry of Health and Family Welfare, Government of Bangladesh. For more information regarding the fees, please visit our official website or contact our admission office.
Please note that the final admission will be subject to the approval by the Ministry of Health and Family Welfare, Government of Bangladesh. For any queries related to the admission process, feel free to contact the admission office.
Fortune Education: Your Trusted Guide to Medical Education in Bangladesh
Founded in 2005, Fortune Education is a leading educational consultancy based in Bangladesh. We are an official authorized consultant for a variety of esteemed medical colleges in Bangladesh, helping students, both local and international, navigate their way to quality medical education. Our deep-seated connections within the educational community allow us to provide accurate and up-to-date information, making us a reliable guide for students pursuing an MBBS in Bangladesh.
Our Associations
We are the exclusive authorized representative for several renowned medical colleges such as Sylhet Women's Medical College, East West Medical College, Diabetic Association Medical College, Islami Bank Medical College, Holy Family Red Crescent Medical College, and many others. Our association with these prestigious institutions ensures that we can assist students with securing a spot in some of the best MBBS programs in the country.
Our Services
We provide end-to-end services, starting from providing detailed information about different colleges, their admission procedures, and eligibility criteria to assisting students with application forms, admission tests, and interviews.
In addition, we help students with their visa application process and pre-departure briefings, ensuring a smooth transition for international students. We also assist with accommodations and provide continued support throughout their study duration in Bangladesh.
Our Core Values
We operate on the core values of transparency, integrity, and commitment to student welfare. We understand that choosing to study abroad is a significant decision for many students and their families, and we are committed to providing reliable and honest consultation to aid this decision.
Fortune Education, we believe in opening doors to quality medical education for students from around the globe. We are dedicated to creating a seamless and enriching experience for every student who dreams of becoming a successful medical professional.
Southern Medical College & Hospital (SMCH) was established in 2005 getting to give the state a gaggle of luminous medical graduates who can help the have-nots by providing the very best possible quality of compassionate and cost-effective care and treatment, to every and each patient, producing high levels of patient satisfaction.
the most object of the institute is to demonstrate high-standard of medical education, training of personnel, and conducting experiments and research in various disciplines of medical sciences. The aim of our college isn't to form only doctors but to form a wise person.
the amount of medical colleges isn't enough to satisfy the need of individuals . to form our students dynamic we've already contacted some foreign medical colleges to urge real-time lessons from reputed medical colleges through teleconferencing, video conferencing, etc. our schools aren't only teachers but mentors also.
Our institution has facilities to coach Medical and Paramedical staff. We are committed to enhancing the standard of life through improved health care, the preparation of these professionals who will serve the health needs of others, and therefore the discovery of data which will benefit us all.
We cannot deny social responsibility but why did we elect the health sector? The ratio of physicians to patients is insufficient in Bangladesh. Moreover, most of the people can't afford the value of treatment. All around us, humans are affected by painful bites of maladies of various kinds and that we cannot remain heedless to their cries.
To fight against the diseases and to cure and luxury men and ladies we found out this medical college that's equipped with all modern facilities which have a charitable air. Here poor people get the simplest treatment with none discrimination.
Our hospital is functioning quite well. We are getting to make specialized departments in our hospital block. Initially, our focus is to be specialized in Nephrology.
So we've taken the initiative to line up the power for Kidney dialysis. it's notable that only two hospitals in Chittagong have this facility but the low-income group people don't have the access to the present service, but the door of Southern Medical College & Hospital is usually hospitable those deprived people.
Secondly, we are contemplating developing our Orthopedic Department as Chattogram remains lagging behind during this arena. But we never say our way was smooth and throne-free but we overcame all the impediments.
We will keep our endeavor moving forward but we'd like people of all social strata, especially parents and students to face beside us to form this noble effort successful. We believe we will make a far better future by co-operating with one another.
PAYMENT INSTRUCTIONS: 2023-2024
FOR SAARC COUNTRIES:
Mode of Payment:
Payment of admission fees, Development fees, Donation, and every one other charges (US$ 32,250.00).
During admission:
Description Amount (US $)
1st year at the time of admission & seat booking 19,000.00
Registration Fee of DU & BMDC 2,000.00
Tuition Fee(2nd Year) 6,000.00
Tuition Fee(3rd Year) 6,000.00
Tuition Fee(4th Year) 6,000.00
Tuition Fee(4th Year) 6,000.00
Total US$ : 45,000.00
In words: Forty-Five thousand US dollars only.
Note: If any student doesn't perform their internship training during this institute (MCWH) she is going to get a refund of USD 2170. the entire amount then to be paid USD (45000-2170) = USD 42830.
Note: Foreign Student Agent Consultancy generally fee USD 3000.
Hostel accommodation fee per annum approximately: US$ 800.00
At the time of admission, all students will need to pay a minimum of 1 (01) year hostel seat rent beforehand if they desire to measure during a hostel. Hostel accommodation fees are an equivalent as local students for one year.
All students will clear their hostel seat rent before appearing within the 1st, 2nd, 3rd & Final professional MBBS examination. If they fail within the Final Professional MBBS Examination, they're going to need to pay US$ 800.00 (Eight hundred US Dollars) for every attempt altogether subjects and US$ 267.00 for every subject.
All students will clear their tuition & others fees goodbye they continue their regular courses. All students need to pay the other charges which can be imposed by the concerned authority associated with the MBBS course, like RFST, study tour, autopsy visit, etc.

A Beacon of Excellence in Medical Education
Army Medical College Jashore (AMCJ) stands as a luminary in the domain of medical education in Bangladesh. Affiliated with the Bangladesh University of Professionals (BUP) and functioning under the esteemed aegis of the Bangladesh Armed Forces, AMCJ is dedicated to shaping the medical leaders of tomorrow.
MBBS Program at AMCJ
The comprehensive MBBS program at AMCJ is divided into five years of academic coursework, followed by a mandatory one-year internship. The curriculum is both extensive and intensive, imparting a perfect balance of theoretical knowledge and practical skills. The college's faculty comprises of a mix of highly experienced and specialized professionals who are committed to nurturing and mentoring their students.
State-of-the-Art Facilities
AMCJ is equipped with cutting-edge medical facilities, modern classrooms, well-stocked libraries, and comfortable accommodation. The college has its own well-equipped hospital with various departments, offering students the opportunity to gain hands-on experience in a variety of medical and surgical cases, enriching their clinical exposure.
Discipline and Professionalism
One of the distinguishing features of AMCJ is its emphasis on discipline, professionalism, and ethical practices. AMCJ fosters an environment where students are trained to be not just proficient doctors, but also compassionate healthcare providers. The institution holds a stringent commitment to producing professionals who serve with a sense of dedication and integrity.
Why AMCJ for International Students?
For international students, and particularly for those from India, AMCJ emerges as an ideal choice for MBBS. Its recognition by the Medical Council of India (MCI) allows Indian graduates to practice in India after passing the Foreign Medical Graduates Examination (FMGE). English medium instruction, affordable fee structure, and significant clinical exposure further bolster the attraction for international students. Additionally, the cultural proximity between India and Bangladesh eases the adaptation process for Indian students.
Join the ranks of the exceptional medical professionals trained at Army Medical College Jashore, and pave your path to a successful career in medicine. Let AMCJ be the foundation stone of your dream medical career. The beacon of excellence in medical education awaits you.
Army Medical College Jashore: World-Class Facilities for Premier Medical Education
At Army Medical College Jashore (AMCJ), world-class facilities meet high-quality education to shape future medical professionals. The college provides a wide range of facilities to ensure a comprehensive learning experience for its students.
Modern Infrastructure: AMCJ houses state-of-the-art academic buildings equipped with modern classrooms, practical labs, and seminar halls. The smart classrooms facilitate effective learning with digital aids like projectors, screens, and sound systems.
Library: The well-stocked library at AMCJ offers an extensive collection of medical books, journals, research papers, and periodicals. It also has a digital section, offering online resources for a wider reach in knowledge.
Medical Laboratories: AMCJ boasts high-tech medical laboratories designed for various subjects such as Anatomy, Physiology, Biochemistry, Microbiology, Pathology, and Pharmacology. These labs allow students to gain hands-on experience and practical skills.
Hospital for Clinical Training: Attached to the college is a fully-functional hospital, equipped with modern medical technologies. Here, students gain practical experience under the guidance of experienced professionals across various departments like General Medicine, Surgery, Pediatrics, Obstetrics & Gynaecology, Orthopedics, Ophthalmology, and more.
Hostel Accommodation: AMCJ provides separate AC hostel facilities for both male and female students. The hostels offer a comfortable living environment with basic amenities like 24-hour electricity, water supply, and security.
Cafeteria: The college has a well-maintained cafeteria, providing healthy and hygienic food options for students and staff.
Sports and Recreational Facilities: Recognizing the importance of a holistic learning environment, AMCJ offers sports and recreational facilities for the overall development of students. These include a playground, gymnasium, and spaces for cultural activities.
Transportation: For the convenience of students and staff, AMCJ provides transportation facilities covering various routes across the city.
The combination of world-class infrastructure and high-quality education at Army Medical College Jashore creates an enriching learning experience, making it a top choice for students aspiring for a successful career in medicine.