Fortune Education: Your Premier Consultant for MBBS Admissions
Welcome to Fortune Education, where your dreams to pursue an MBBS transform into reality!
Unlock Your Medical Aspirations with Fortune Education
When it comes to MBBS admissions, the pathway may seem intricate and overwhelming. But with Fortune Education by your side, your journey to becoming a doctor is set on a course of clarity and success. Recognized as a leading consultant in the realm of MBBS admissions, we channel our experience, expertise, and unparalleled network to guide you to the zenith of your medical ambitions.
Why Choose Fortune Education for Your MBBS Admissions?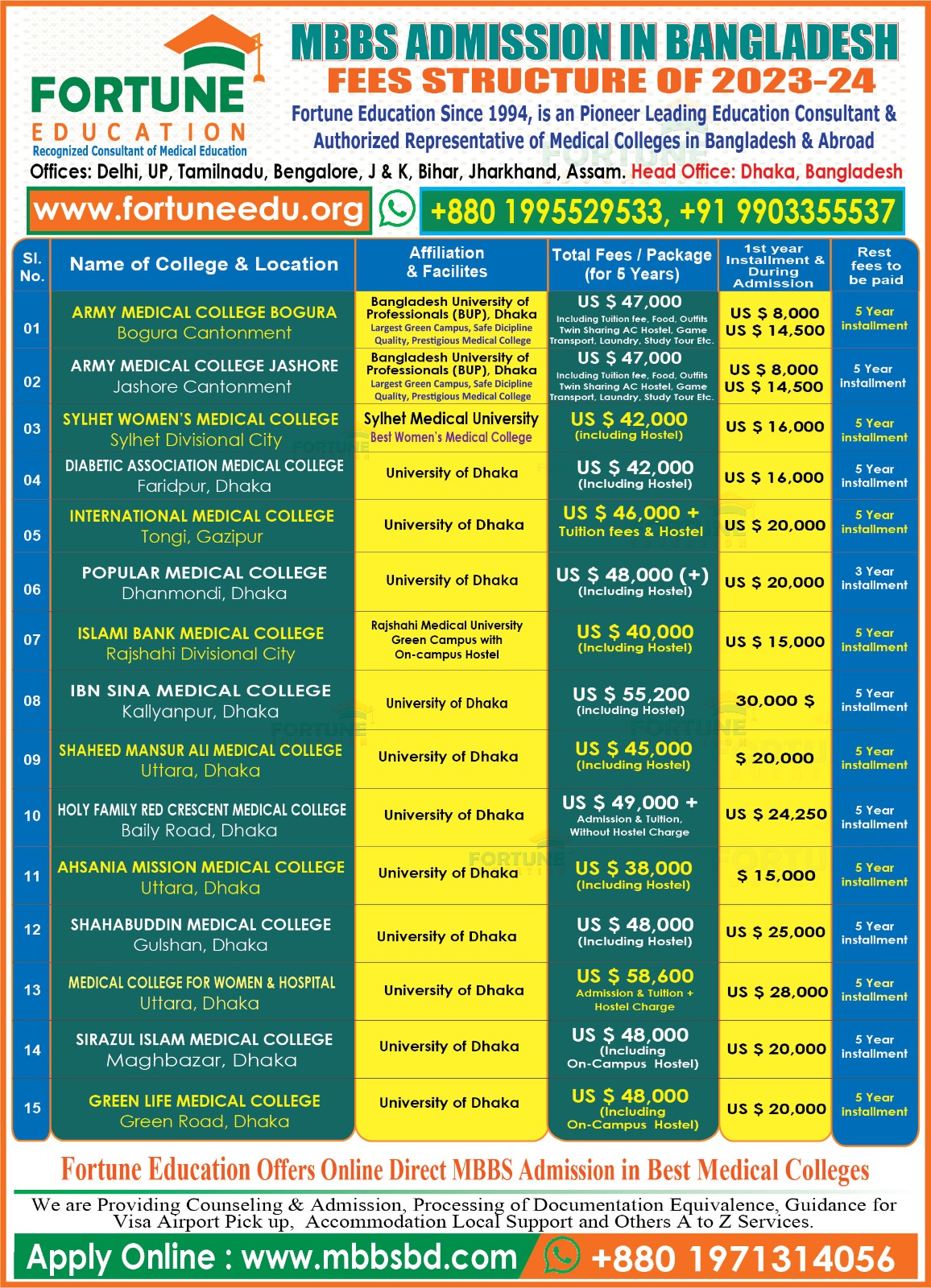 Trusted Expertise: With years in the consultancy sector, our rich experience makes us the first choice for countless MBBS aspirants. We've seen the medical admission landscape evolve and have constantly adapted, ensuring our students get the best.
Holistic Guidance: Our approach isn't just about securing admissions; it's about understanding your aspirations, gauging your strengths, and then aligning you with institutions that resonate with your vision.
Global Network: Our extensive partnerships with esteemed medical institutions worldwide ensure that you get placed in an environment that's conducive to your growth and global exposure.
Transparent Process: At Fortune Education, transparency isn't a buzzword; it's a commitment. Every step, from consultation to securing your admission, is communicated clearly, ensuring you're always in the know.
Services Offered:
Personalized Counseling: Tailored sessions that delve deep into your aspirations, helping chart out the perfect MBBS pathway for you.
Document Assistance: Navigating paperwork can be tedious. Our team assists in organizing, preparing, and verifying all necessary documents for your admission process.
MBBS in Bangladesh with Fortune Education
Do you aspire to wear that white coat and serve the community as a skilled medical professional? Your dream is closer than you think! Dive into the world of MBBS in Bangladesh with Fortune Education, your trusted partner guiding you to secure a spot in top medical colleges. Now, with our Online Direct MBBS Admission offer, the journey to becoming a doctor has never been more seamless.
Tailored Guidance: At Fortune Education, we understand that every student's journey is unique. Our expert consultants provide personalized advice, ensuring that you find a medical college in Bangladesh that aligns with your aspirations and strengths.
Easy Online Direct Admission: Gone are the days of complex paperwork and long waiting times. With Fortune Education's online direct MBBS admission system, you can secure your seat in a reputed Bangladeshi medical college from the comfort of your home.
A Legacy of Success: Fortune Education has a track record of placing countless students in esteemed institutions across Bangladesh. Our alumni network spans globally, with many now leading successful careers in healthcare.
End-to-End Support: From choosing the right college and streamlining the admission process to offering post-admission support and networking opportunities, Fortune Education stands by you throughout your MBBS journey.
Step 1:
Visit the Fortune Education website and navigate to the Online Direct MBBS Admission portal.
Step 2: Fill out the application form, providing details such as academic scores, personal details, and course preferences.
Step 3: Attach necessary documents – 12th standard mark sheet, NEET qualification certificate (for Indian students), passport copy, and recent photographs.
Step 4: Submit the form, and our team will review it. Post verification, you'll receive a confirmation mail with further instructions.
Step 5: Once admitted, get ready for an orientation with Fortune Education, where we'll walk you through the next steps and ensure you're all set for your new academic journey.
What Our Students Say:
"Navigating foreign admissions felt daunting until I found Fortune Education. Their online direct admission process was straightforward, and their support team was there every step of the way." – Anjali Rao, MBBS First Year Student.
"Choosing MBBS in Bangladesh with Fortune Education has been a game-changer. The quality of education, combined with the supportive network Fortune offers, has made my journey smooth and rewarding." – Sayed Ahmed, MBBS Graduate.